Erica Karabinos, Certified Medical Assistant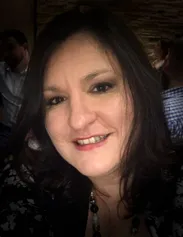 Erica has over a decade's work experience in pediatrics. She studied psychology at Monmouth University, where she met her husband and started a family. She worked as a stay-at-home mom for a few years.
While working as a medical assistant in a pediatric office for 10 years, Erica returned to school and earned her Medical Assistant Certificate from Kaplan University. She then went on to earn her Clinical Medical Assistant Certification.
Erica has been working with Dr. Senator and Dr. Jain since 2015 and is very excited to continue her journey with them in their Hillsborough practice!
Erica lives in Bridgewater with her husband and 3 sons. She loves to cook and discover fun recipes for her family. In her spare time you can find her on a football, baseball or lacrosse field cheering on her three sons.
Cindy Alexy, Registered Nurse
Cindy has been a registered nurse (RN) for over 40 years. She began her career working on the Medical/Surgical Unit at Muhlenberg Regional Medical Center in Plainfield, New Jersey. She then held several positions over 18 years in the Renal/Dialysis Unit at Muhlenberg: Staff/Charge Nurse in the Hemodialysis and Peritoneal Dialysis Units, Coordinator of Peritoneal Dialysis Services, Staff Development Instructor, Infection Control Committee, as well as presiding on the hospital Quality Assurance/Audit Committee which reviewed charts and policy manuals.
Cindy is married and has two adult children. She was fortunate to have been able to stay at home to raise her children and become involved in school activities, as well as being involved in her children's many interests.
Cindy served on several school district committees including the G&T Review Committee. She was the Treasurer of Council of Schools, a District sponsored organization of the PTOs and Administrators. She was a Cub Scout Den Mother and Assistant Girl Scout Leader. Cindy taught second grade CCD at Blessed Sacrament Church in Martinsville for 23 years.
After raising her children, she decided to return to work in a medical office setting. Her love for children led her to the field of Pediatric nursing, where she has been working since 2013.
---